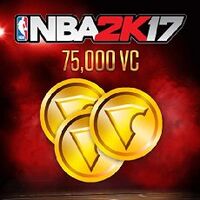 Virtual Currency, or VC, is the currency in the 
NBA 2K 
series.
MyCareer
In MyCareer, you earn VC by playing games or attending endorsement events. You can earn more VC in games by increasing the difficulty you're playing on (Rookie, Pro, All-Star, Superstar, Hall of Fame) and putting up better numbers, such as double-doubles, triple-doubles, etc.
You can then spend your VC in MyCareer on upgrading your attributes. The better your attributes are, the better your player's playing potential is.
MyTeam
In MyTeam, you can only spend VC, as the gamemode has it's own currency called MT. You can spend this VC on packs. You can buy League Packs, or limited edition packs such as Throwback Packs. In packs, you pull one player as well as being able to pull contracts, balls, coaches and arenas.
You may also spend VC on contracts in MyTeam. Without any contracts, your players cannot play games. Along with this, you can open up the Black Market in MyTeam, where you can buy special packs, diamond shoes and diamond contracts with your VC.
MyGM/MyLeague
In MyGM/MyLeague, you can only earn VC. You can earn VC in this gamemode by playing full games with the team you're controlling.
Purchasing VC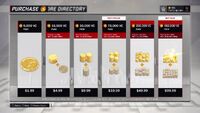 You can buy VC within the game, with gift cards or on your console's store. Spending more money allows you to purchase more VC. Every so often there are "VC Sales".
Community content is available under
CC-BY-SA
unless otherwise noted.