The Hub of NBA 2K21. This location is only accessible in the next-generation version.
Affiliations
Each affiliation is headed by player-voted Mayors. Each affiliation has nine courts each. Additionally, each affiliation has its own apparel store next to these courts.
Western Wildcats
North Side Knights
Beasts of the East
South City Vipers
RookieVille
All players must start off in RookieVille until they reach Pro I. After completing basketball games on one of four courts, the gates will open to the City.
Locations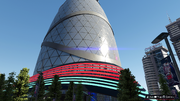 Event Center (2K Compete)
Game Challenge
Waypoint
Daily Reward
Subway
Gatorade Gym
Pro Am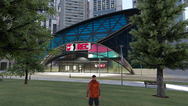 REC
Garage Hoop
Paint Tattoo
Finders Keepers
NBA Store
Swags
MyTeam (Pink Diamond Plaza)
Rags
Backpack Boss
Puma
Decks
Tattoo Envy
JT's Sporting Goods
Jordan
Drip Brothers
Converse
Beats
Adidas
Under Armour
Alter Ego
New Balance
Specs
Embellish
Wheels
Nike
Media