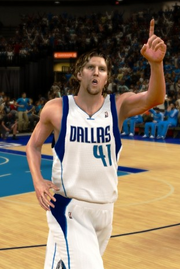 Dirk Werner Nowitzki (born June 19, 1978) is a German retired professional basketball player in the NBA at Power Forward for the Dallas Mavericks.
He is a cover athlete for NBA 2K22.
Appearances
Statistics
NBA 2K12
Nowitzki is rated on Offense, on Defense, and on Rebound.
His overall rating is an .
| RTG | IN | OUT | PER D | POST D | HNDL | REB | IQ | ATH |
| --- | --- | --- | --- | --- | --- | --- | --- | --- |
Achievements/Trophies
| Icon | Name | Description | Points | Trophy |
| --- | --- | --- | --- | --- |
Gallery
See also
External links